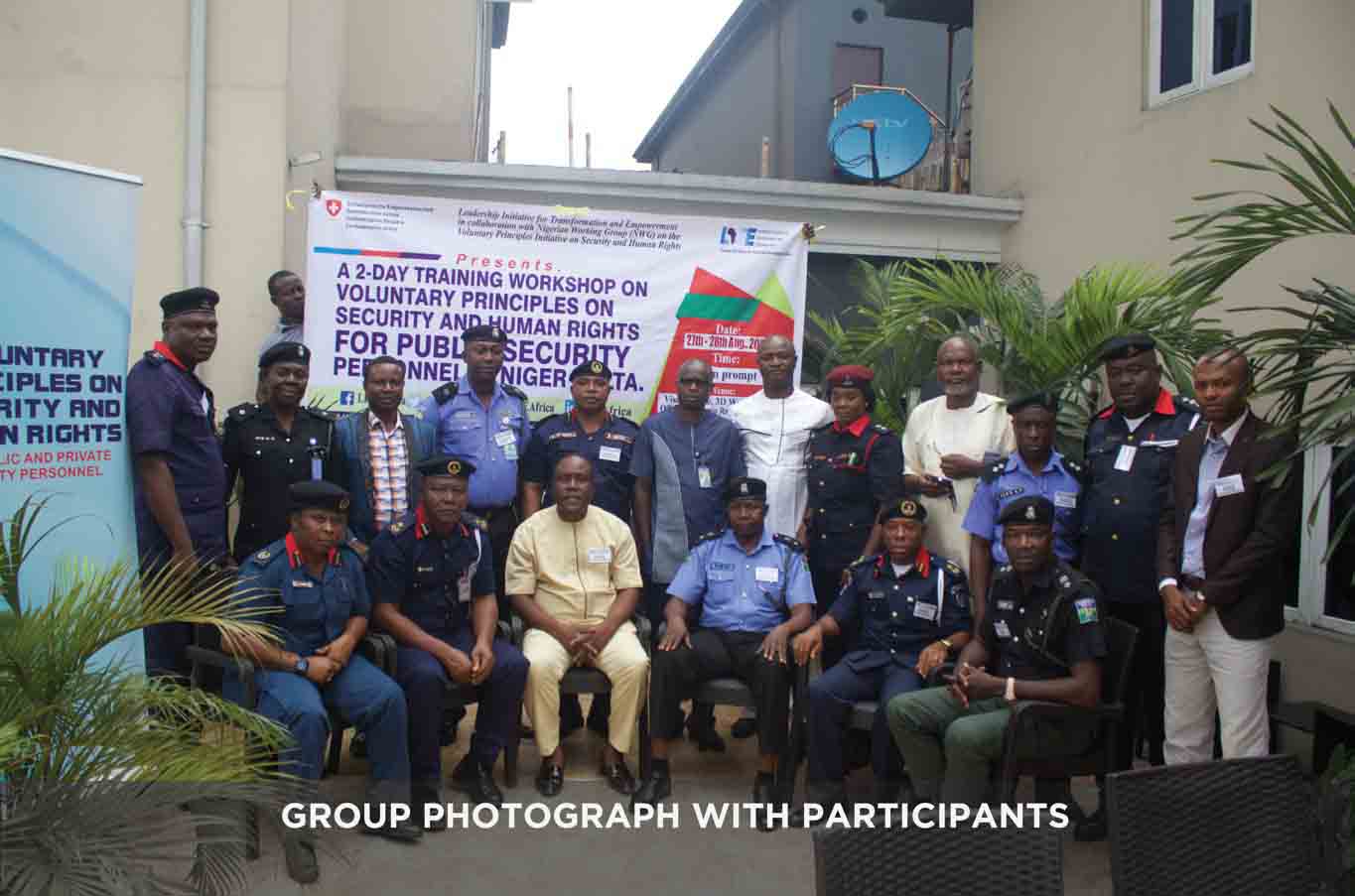 The Leadership Initiative for Transformation and Empowerment (LITE-Africa) a non-governmental organisation (NGO) in Warri, Delta state in collaboration with the Nigerian Working group on the Voluntary Principles Initiative on Security and Human Rights (VPSHR) on Monday the 27th and Tuesday 28th of Aug, 2018, organised a 2- day training workshop on the (VPSHR) for Public security personnel in Niger Delta
The workshop which was held at at Visa Karena Hotel, Port Harcourt built the capacity of public security personnel comprising officers of the Nigerian Police force, Department of State Services (DSS), and the Nigerian Security Civil Defence Corps (NSCDC) on the VPSHR.
The workshop was organised as part of an ongoing project being implemented by LITE-Africa with funding from the Swiss confederation to promote human rights in Nigeria through Voluntary Principles on Security and Human Rights.
The VPSHR which was launched in 2000 is a multi stakeholder initiative including Governments, Companies and NGOs is a set of soft laws that guide companies on providing security for their operation to ensure human rights are respected while protecting company facilities.
On the First day of the workshop, Hon. Joel Bisina the ED of LITE-Africa in his opening remarks at the workshop said, "this training is important because of the volatility of our country"
Over the two day, Participants were introduced and taken through the definition and evolution of Human rights, they were also exposed to the 1999 constitution of the federal Republic of Nigeria as it relates to Human rights. Their capacity was also thoroughly built on the Voluntary Principles on Security and Human Rights and they were trained on carrying out proper risk assessment to ensure the rights of citizens were upheld and respected while protecting company facilities. Finally, they were also introduced to the United Nations Guiding Principles On Business and Human Rights.
After the various learning sessions, the participants were also given group tasks where they were given certain scenarios and they had to apply the knowledge gained from the workshop to come up with adequate solutions which they then presented to the entire class. After the Group exercises, there was also a brain storming session to gain new insights on how to improve the respect of Human Rights in Nigeria.
After the workshop, many of the participants expressed their gratitude to LITE –Africa for organising such a workshop. DSC George who thanked the organisers said," The lectures were very apt"