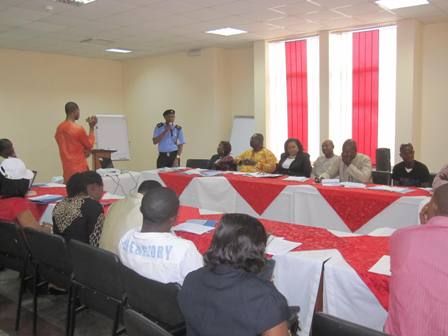 LITE-Africa on May 14th 2014, held a Business and Human Rights Forum in Port-Harcourt, River State as part of CORDIAD funded project titled "VPs Accountability" Project.
The forum convened about 27 stakholders ranging from representatives of Shell Petroleum Development Company, Nigerian Agip Oil Company, Nigerian Police Force, National Human Rights Commission, Ministry of Justice, Community representatives of Beneku, Agbalagada, Okwuzi, Koroama and Idama communities and Civil society  Organizations working in the Niger Delta.
The main aim of the forum was to encourage mutual dialogue, examine existing grievance mechanisms set up by industry players and sensitize key stakeholders on their role in advocating for corporate accountability standards in respecting human rights.
Jerry Nwigwe Senior Programme Manager LITE-Africa in his opening remark noted that the forum is part of the one year project being supported by CORDAID to create awareness on the Voluntary Principles in Nigeria and to ensure CSOs have the capacity to advocate for corporate standards in respecting human rights.   He continued by stating that unmanaged grievances have had its impact in the extractive industry  and managing it  would ensure disputes are resolved amicably and environment is conducive for industry players to operate.  He continued by stating that the UN through the remedy pillar mandated businesses to establish grievance mechanism through the Principle 29. Guiding Principle 29 states:
"To make it possible for grievances to be addressed early and remediated directly, business enterprises should establish or participate in effective operational-level grievance mechanisms for individuals and communities who may be adversely impacted."
He concluded by saying that since citizens are not aware of the available mechanisms and tools, it has contributed to using other means like sabotage, protest, hostage and kidnapping to settle grievances.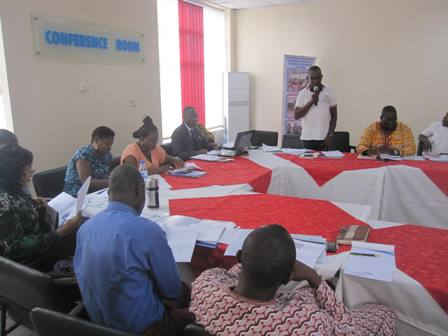 Elder Dandy Mgbenwa of Okwuzi Community making a contribution at the Business and
Human Rights Forum
Speaking at the forum, the Chief Superintendent of Police Henry E. Njoku said the police commit to the theme of the forum "developing an effective grievance mechanism within the extractive sector in Nigeria" and that the best step towards addressing it is via such dialogues.
On the role of the National Human Rights Commission in settling grievances, Mrs Sarah Orage, Legal Officer, NHRC, South – South Zonal Office said the NHRC embodies all human rights and have been working with the Nigerian Police closely at resolving cases over the years. She enjoined all stakeholders to always find solaces in the NHRC whenever they feel their rights have been violated.
The Permanent Secretary, Ministry of Justice, Rivers state who was represented by Barrister Queen Godwill pointed out that the Ministry has a grievance mechanism called "the Citizens Rights department which creates a platform for venting Arbitration, Mediation, and addressing grievances in a less formal setting than the law courts is also one of the effective mechanisms available to citizens"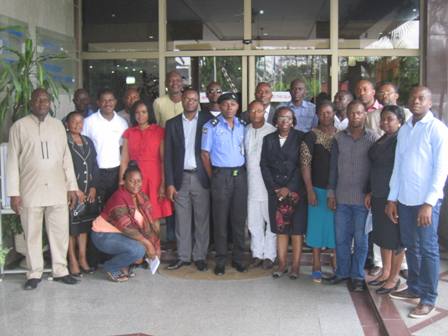 Recognizing that there is a massive deficiency in capacity building of stakeholders on Human Rights, the NGO and Human Rights adviser SPDC, Mr. Francis Asuik thanked LITE-Africa for its continued effort in advocating for human rights and sensitizing stakeholders.
Some of the available grievance mechanisms highlighted by stakeholders at the forum includes: Citizens Rights Department, National Human Rights Commission, Human Rights Desk (NPF), Lagos Regional Centre for Commercial Arbitration, Human Rights Section of NBA, Shell GMoU Mechanism, Security Meeting (Delta State), Public Complaint Commission and Trade Unions.
They also noted that these mechanisms are not all sufficient and identified a number of gaps  in the existing network of grievance mechanisms; Financial implication and delays; Lack of confidence in the judicial process; Lack of capacity building on current trends; Non confidentiality ; Bureaucratic bottlenecks and technicalities.
Based on the review of existing grievance mechanisms, a number of recommendations were drawn for enhancing these mechanisms in the extractive sector in Nigeria. The following suggests a few.
NHRC should consider partnering with National Orientation Agency so citizens can be sensitized on their rights
Create awareness about grievance mechanisms. There is a substantial deficit of information about: what grievance mechanisms exist, how they function, who can use them and what they can achieve. Various institutions might consider how they can play a role in filling this gap,
Capacity building of stakeholders on Human Rights
Compensation laws needs to be reviewed