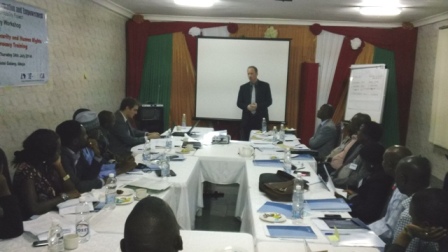 On July 23rd -24th 2014 in Abuja, Leadership Initiative for Transformation and Empowerment (LITE-Africa) hosted a two-day workshop on the Voluntary Principles on Security and Human Rights (VP).
The workshop which was aimed at increasing the knowledge of the VPs amongst stakeholders with a view to equipping them with skills to advocate for the implementation of the VPs by the Nigerian Government was attended by over 33 stakeholders including community leaders, representatives of government agencies, civil society organizations, security agencies and embassies.
In a welcome remark, Mr Jerry Nwigwe, Senior Programme Manager LITE-Africa said that the capacity of stakeholders are being built on the VPs so that they too can contribute in the sensitization of citizens on this initiative. He noted that the workshop was convened as part of LITE-Africa's one-year VPs Accountability Project entitled "Strengthening CSOs capacity to promoting Voluntary Principles on Security and Human Rights as an Accountability tool in Nigeria" which is funded by the Catholic Organisation for Relief and Development Aid.
He further explained that the overall goal of the project is to strengthen Nigeria's CSO Coalition on Business and Human Rights to build and enforce measures of corporate accountability, including increasing state practices on business and human rights principles and ensure the Nigerian government and Oil companies commit to the VPs.
Participants were sensitized on various issues including the relationship between security, business, and human rights, VP initiative and the role of government and reasons for advocacy.
Speaking at the workshop, DR. A.N Thomas, representative of the Force Intelligence Bureau Nigeria said despite the fact that issues of human rights have already been integrated into their trainings, the Nigerian Police Force will ensure they push for wider adoption of the Voluntary Principles.
Mr Chinyere Iheakaibe Programme Manager LITE-Africa noted that advocacy visits will be embarked upon to relevant agencies and a CSOs coalition meeting will be held in the later part of the year to set up advocacy strategies for engagement. He therefore charged all stakeholders to put hands on deck to raise awareness on the VP.