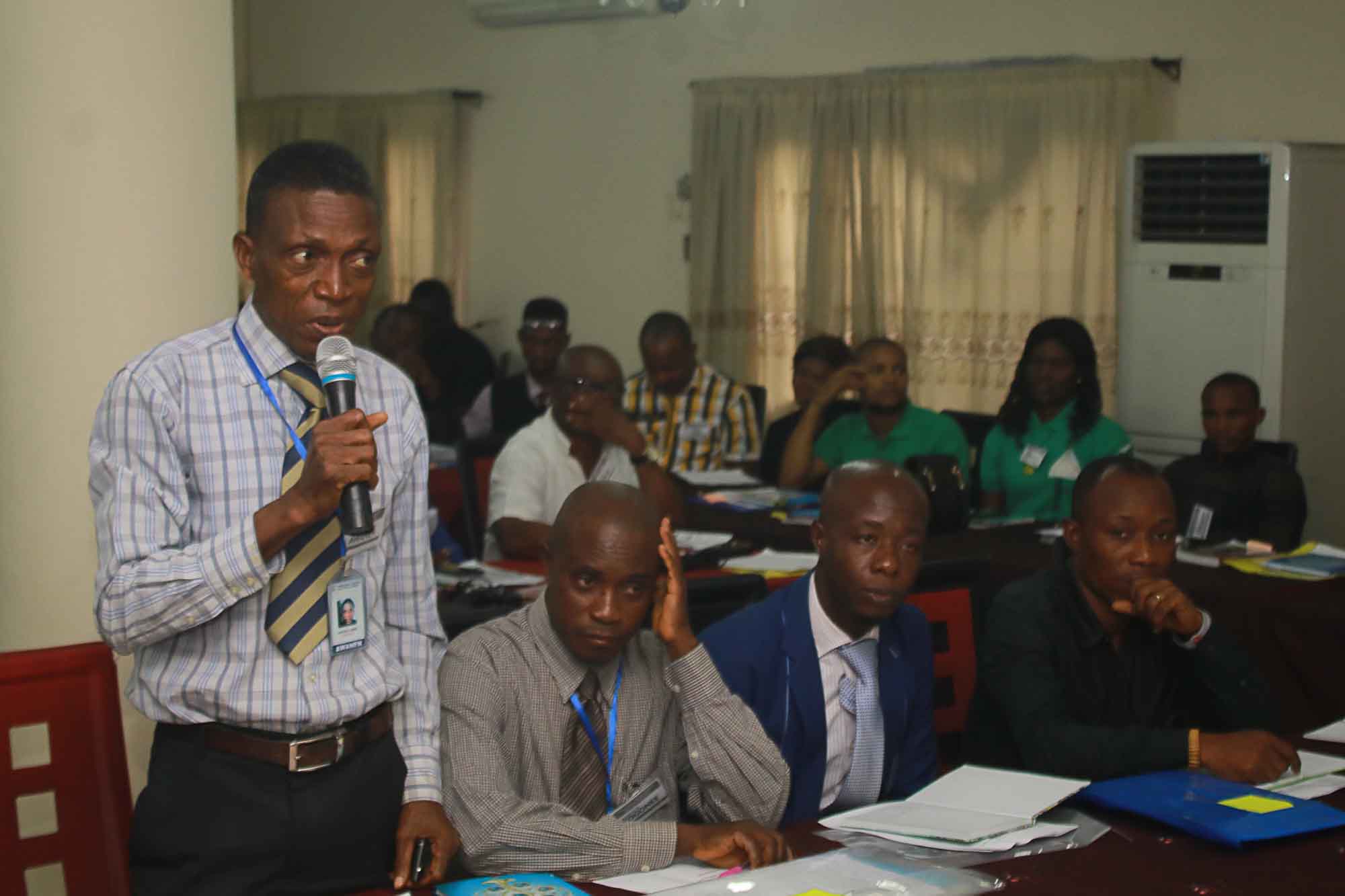 [or] "What happens when community people get to talk directly to elected officials, oil company representatives and community leaders who are supposed to be representing community interests?"
In July 2010, NIDPRODEV hosted a 2-day workshop in Delta State and in Bayelsa State for the 10 communities that it has been working with as part of a project sponsored by the US Institute of Peace to strengthen transparency and accountability in oil revenue expenditures.
Invited representatives from the communities included four members of their "Community Monitoring Group" or CMG and their community's Woman Leader. The morning of Day One of the workshop was devoted to capturing their stories about their experiences after their first training workshop in February 2010. In the afternoon, the community representatives were given an information session on how federal, state and local government budgets were formulated and distributed (in theory). The conversation got exceptionally lively after they then received printouts of the 2008 state budget [spent] and the 2009 state budget [proposed], which showed development money that was allocated to their respective communities (but more often than not, was never received — as evidenced by the transcript that follows). On Day Two, the community people had their very first opportunity to interact with the other stakeholders in development — their elected officials, oil company representatives and members of the "Regional Development Committees" or RDCS (community people who are suppose to represent the development interests of oil-producing communities in the distribution of oil company revenue).
Rather than summarize the exchanges among all stakeholders, it is believed that the information delivered and the energy in that workshop — including frustration, anger and curiosity — are best presented in their own words. All that follows are direct quotes.
SUCCESS STORIES
From Tsekelewu CMG Member:
After the CMG program, we went to our community and there was a lot of lopsidedness that was going on. We came together and inspected some projects and there was this generator plant in our community that was giving a supply of electricity. We met the contractor. We spoke with him. "Why is it that it is not giving us lights?" And there was talking here and there. We know that Shell gives us the light, the light is day and night. So we were trying to make the contractor use the fuel. But because we are all brothers, he thought we were playing.
We, the CMG members, went to visit the community, the leaders, other people and we sent delegates to see him in Warri, yet he was thinking we were playing. So just to make a long story short…..
He thought we were nobody, that we have no rights. We went further to Shell. We wrote some petitions and put them with Shell. He thought we were still playing that we could do nothing. But in the end we went to here, even to the Vanguard, the other papers. After everything, Shell called him and froze his accounts. And later he went to the community to beg to make sure the contract was given to him. He went to beg to the elders, the youths, everybody. He is going to give the lights continually to the community. And as I am talking we are proud that Tsekelewu is having constant supply of electricity.
With other contractors…we went to meet them one on one, we called them on phone. The CMG in Tsekelewu community is doing a lot. We went to see them and tell them if they do not do these projects, we will have a lot of trouble with them. Lots of projects, even DESOPADEC, Chevron, or from the state, most of the projects are in progress.

STORIES OF FRUSTRATION DUE TO LACK OF INFORMATION FROM SHELL:
From Ogidigiben Woman Leader:
Shell gave the contracts to some of their contractors and those contractors — they don't meet the community so the community don't even know what they are even doing. Then they bring fuel for the lights this very month, July. Before they will bring again, it will be December. Before they bring in December the first one has already finished. We have no access to even discuss with the contractor. We don't even know their arrangements. Even the fuel they used to bring we don't know the quantity, we don't know when that quantity that they brought will finish, and we don't know when they will repeat and bring it. So we are there as a novice, looking. If we got the light today, we may not get tomorrow, we do not know where to go. So Shell is keeping the community behind. It is not the contractor. It is Shell that is keeping us behind.

STORIES THAT PUT BLAME ON THE COMMUNITIES THEMSELVES:
CMG Member: Everybody, if you have your person in position, you want to do anything, even though he is doing bad, you want to protect him, until the end of his time, no matter what he is doing.
MODERATOR: Can I ask, is that true?
EVERYONE: Yes, it is true, quite true.
CMG Member: Let me tell you something. All we are saying here is the problem. that you came all the way as a nongovernmental organization to tackle between us is within us. Because you telling us the truth, we know the truth, we know what to do.
Lets assuming you were my mother and you are the one holding the key. It is difficult for me as your son or as your cousin or whatever to come out and tell you that this thing that you are doing is wrong. Also my friend and the others that are close to me, because of me it will be difficult for them to come to you and tell you that this thing you are doing is wrong, its not moving the community forward. Newsletter…there is some information that will be spread in the town hall meeting. A particular name will be called in the town hall meeting . When that name is called that this is the name is the particular person who is responsible for this now. It will be tough for certain people to stand up and ask questions because of that name. Waiting for what will happen in the next moment.
So to me, on my own, the problem and all of those things are within us.

STORIES ABOUT WHY INDIGENES PROTEST TO OIL COMPANIES BUT NOT TO GOVERNMENT:
WOMAN: We were not there when they [oil companies, government and community leaders] were signing. So we don't know, how do you expect me now. I have not eaten since one week, no money in my pocket, malaria is almost killing me, I'm traveling all of the way from Escravos [near her community and major oil location] to Abuja [capital], I don't know where I'm going to stay. Its easier for us to get to the multinationals. So the multinationals should collect all the revenues from government and come develop us.
Your son, maybe my son even, is a Councillor. He will not want you to come and see him. He thinks "My mother is coming. Maybe she is coming to attack me because of what I am doing." Some of them even when they go to the community.
MODERATOR: Can you see this from the mulitnational perspective? They say the only reason… your government is getting 60% but you keep knocking on our door. Why don't you make your government…
WOMAN: Because the government is corrupt. 100% corrupt.
MODERATOR: Do you think it can change?
WOMAN: The government is 100 times corrupt. What do they do with the sixty percent while the communities are living in shacks? The government should not even be given one percent. The money should be paid to the communities. Let the communities have the money.

STORY AFTER CMGs ARE SHOWN STATE BUDGETS THAT SHOW WHAT PROJECT AND HOW MUCH MONEY THEIR COMMUNITY HAS RECEIVED IN A YEAR: 
MODERATOR TO OGIDIGBEN WOMAN LEADER: So you see, on this line, in 2009 your community received approval for a 50 million naira cottage hospital. When you look at that hospital, do you think it is worth 50 million naira?
WOMAN: This cottage hospital subcontractor is here with us so he can tell us better about the status of the cottage hospital.
MODERATOR: The subcontractor is here in this room?
WOMAN: The subcontractor to the real contractor is here so let him say something about it.
SUBCONTRACTOR (ALSO A CMG MEMBER): Am I the one you are asking? The community is here. I am not the only one representing the community here.
OGIDIGBEN WOMAN LEADER: In the month of February there was a certain young man with briefcase. There is one old soldier in our community. He escorted the man with the briefcase to my house. He said that this our stranger. I greeted him, "Mr. Man, what do you come here for." He said I am doctor from Sapele General Hospital. I have been transferred to the cottage hospital and the cottage hospital is not yet finished. There is no single bed, no single equipment, nothing whatsoever. I said, before this man, "Let me see your transfer paper." He opened the briefcase and bring me his transfer paper, and this is the paper they used in transferring him from General Hospital Sapele to this Ogidigben cottage hospital. "Oh," I say, "something is wrong here," I invite the old men in the community that there is something wrong here.
Before the government would be transfer person from General Hospital to certain hospital based here there should at least be certain equipment is shared somewhere. So I called a meeting; we gathered ourselves. What are we going to do?
They said we should come to Warri to meet with one of the contractors so that we would be able to know if the equipment is already out from the government.
So I told them to wait and I came to Warri and I come and hollered that there would be problems if they don't bring those equipment.
Before three weeks, they bring ordinary foam like 30 foams, mattress, that is the only thing that they brought because of the shout that we the women were shouting. Event the doctor said that the walkway between his house and the hospital had not been done. Even if there was equipment, he would not be able to come and stay. There is nothing there at all at all. We were still reasoning with our brother before government transferred people to come and work there at least the equipment may be somewhere and we don't see it. So this is the problem here.

CMG MEMBERS' RESPONSES TO HEARING WHAT THE 2009 BUDGET SAYS THEY SHOULD HAVE RECEIVED IN THEIR COMMUNITIES:
MODERATOR: Last year you were budgeted to receive N25 million and you should have a primary health center.
WOMAN #1: No health center, no health center in our community
MODERATOR: The budget tells you, I will bring the book in so you can all see it, the book I took this from. You can see how the government took the money [from oil revenue] and spread it out.
WOMAN #2: This construction of Ogidigben and Ajudiapo Township Road. It is not the state government that is doing this.
MAN #1: There is no road there.
WOMAN #3: This information here it amounts to no information at all. This construction Ogidigben Ajudiapo Township Road — there is nothing like that there. Number 2. Fencing and landscaping of 13% housing estate, Ogidigben. 45 million naira. There are some buildings there but no single fence.
MAN #2: It is more or less what is happening in the government now. That you said this budget, it is everyone's right to see it but it is very difficult to see it. The one for 2010, and 2010 is almost round up, you never see, talk less of single man have to get one, it is difficult. Your own also (the community's). Everything. It is not transparent, the way it ought to go.
MAN #3: Then, again . . . because what we know is that we have enough money to do most of these projects. Why is it that there are some projects that are in the budget, they abandon them. For example, if I were to use my community as a case study, Ogbudugbudu community, I see here, 2008, it is about a water project. They say 2008 revised, they say 18 almost 19 million. Then in 2009, one million again for the same project and we have not seen anything like that. Why is it so? We know that we have money in this country to do all of these things. Why is it so that we are not seeing these things and they are in the budget? I still need more explanation. Does it mean that this budget has been made without the revenue being allocated to the appropriated quarters.

COUNCILOR'S REMARKS ON BUDGETS:
During budgeting, if your Councillor does not discuss with you, if you don't see him, if he is not there, then he is not representing you. He is rather, representing himself. But if he comes to you, he discusses with you, you have a discussion with him, he will be able to know what you want. I bet you, when he takes it there, he is going to follow it to the letter and see that it is executed.
Now, having said that, the burden is on you to follow it and ensure that when the time comes for the execution of things that are in the budget, your own project is part of it. The very first place you start your heat from is the budget. When you bring it to the executive and the executive now imbed it into the budget they will definitely bring it to the place. Let us know, look at it because, as a legislator as a legislative house you have the right to turn down any budget or push up. The executive can say, "This home we want to make it for N2million," and he bring it to us. We look at it and decide if it will be enough to execute this project, we push it up to N2.5 or 3 million. It is within our rights and provision to do that. Then the guy comes again to say, "We want acquire this air conditioner for this constituent. We want to buy an air conditioner for N10million." This air conditioner should be no more than maybe N500,000, we brought it down to N500,000. If you now you go ahead and buy it for that N10million then you have your own problem with the EFCC and the IPCC maybe ten years after your expiration.
So, having said this much, when I was here I overheard some statement, Councillors not knowing how much their constituency. . .this not that and all that stuff. . . I believe no Councillor, I repeat with emphasis, no Councillor from a community, that represents a constituency that does not know what he ought to do. I take myself as case study. I go to my constituency . . .

STORIES ABOUT LACK OF COMMUNITY PARTICIPATION IN DEVELOPMENT, EVEN THOUGH THE LEADERS SAY TO OIL COMPANIES THE COMMUNITY IS INVOLVED:
Instead of them now, they are very short with me now you see, the people who represent my people, come, because there is no transparency in that place. The reason why is that they are supposed to come to the community. Ask the community in particular. Last year or two years ago they build houses. They done set up their offices on the side of these new houses. The metal thing is what they signed between themselves that is binding them is to go to the communities and ask the community what they need. What are your immediate needs for now? They build house around, whether people use the houses they still build them. Whether they are houses or fuel, whether this one is the most important thing at the moment, it is no longer their regard. Whatever they decide in their office is what they take back. No community even knew how much they are supposed to spend for them so you cannot even ask back.

CMG MEMBER COMMENTS ON THE DAY THAT OIL COMPANY AND GOVERNMENT OFFICIALS ARE PRESENT:
1. We are producing the oil, even with 60% we are getting nothing. Even the oil companies they are trying…. But for all of the allocations that are coming down from the federal to the states to the local government, it ends at the local government it will not disseminate to the local community. So the central person is the state government that should be responsible.
2. There is a system that our government is operating. Even the Councillors we have might have their own say but it is not valued. In that situation, they might come up doing nothing for their community, because their opinion in the Council will not be valued at all. So the central person, as in the Local Government Chairman has a lot to do because the system works down from him down into the community.
3. It was two or three years ago, when he came to the community, he also raised the matter also before him that facing this particular house here that if nothing is done then this house will just go like that. But only to discover now that in 2008, this thing was approved. 2008 revised again and 2009 approved N70million. Now we were in 2008 until now nothing has been done. So what I intend to do now is to take up the matter. I will call him on the phone, but to get him will be very difficult because he won't pick that one, even when you get his phone it is very difficult. So what I will do is to get to this particular ministry that bring this contract out and when it proves difficult or giving me hassles to talk to the appropriate person I'm going to spend my personal money and put it back in Vangaurd [newspaper].

DIALOGUE #1 BETWEEN OIL COMPANY REPRESENTATIVE AND CMG MEMBER:
OIL COMPANY REPRESENTATIVE: The RDC [the development committee comprised of indigenes, which oversees the funds distributed by Chevron on behalf of community development via a GMOU] , this body that is representing the community, before the arrival of RDC Chevron as a company that is working on the environment, they have been doing a lot. They have been giving money to communities, people will carry this money, they will give out the money to not everyone in the community. So Chevron came around and said "we have been putting money in this community we have not seen the money impact let us bring the Global MoU." That is what brought the RDC into existence.
Like he said, the RDC, as a body, you have your own representative drawn from your own community inside that RDC. The RDC has what is called a project account, project fund account. That account is untouched. Nobody has access to that account. Not even the chairman has access to that account. It is a project account. Funds have been deposited into that account for the three Itshekiri areas, I don't know about the Ijaws, that are paid their yearly. That fund, the Council will now sit down. Someone from the community will now come. This money that is being shared between these three communities, the value of the contract, the job, the project, the wants in your own community. For instance, if you want health center your representative will come and say we want health center for this project. So they will build health center for Ogidigben. That is a project that has to come from the community, not the operators. So you who has a representative from that RDC it is his duty to bring the knowledge to his people that the project that his project is coming from RDC and it is the money that is supposed to come to Ogidigben community that they are going to use in doing that project. But they don't give this money any longer in cash.
CMG Member: We are saying the same thing.
OIL COMPANY REPRESENTATIVE: Yes, when we are talking about transparency.
CMG MEMBER: That is transparency?
OIL COMPANY REPRESENTATIVE: What I am saying is that they don't have access to the account?
CMG MEMBER: The person who is representing me is supposed to come to the community and ask the community "What do you want this year?" Am I right or wrong?
OIL COMPANY REPRESENTATIVE: Yes, you are right. And right now if you come look at the RDC budget you will see a project for Ogidigben recently.
CMG MEMBER: You say there is a project but is it the choice of the people? If you offer the people the choice of that community and I tell you the one in the budget this year is not the choice of the community.

QUESTIONING BY [OIL COMPANY] RDC CHAIRMAN TO GOVERNMENT OFFICIALS:
Chairman of Gbaramatu RDC: As the Chairman of the RDC, the Ebegme-Gbaramatu RDC, our activities cover to Local Government Areas, Warri North and Warri South West. One of the things that we have come across during the activities of the Council is that the Local Government presence . . . the Local Government is supposed to be the nearest government to the people. I think that the Local Government has some specific responsibilities in attending to the immediate needs of the people. Like we talk about primary school, primary health care, and so on. Maybe water. But at least I know of primary school and primary health care. These are things that I think the Local Government should be able to attend to. But we have found that in virtually all of the schools in the riverine areas, both in Warri North and Warri South-West, the Local Government presence is not felt at all. I heard the honorable representative talk about lack of money and like was said right now, we have the statutory allocation that is done by the FAAC, the Federal Accounts and Allocations Committee. Every time the Ministry of Finance publishes the amount of money that is allocated to Warri North, allocated to Warri South-West, but we don't see this money being utilized in the communities. If you go to the schools, the schools don't have chalk, they don't have black board, they don't have benches and we wonder what is the responsibility of the Local Government to this place. As members of the RDC, we are not even getting the cooperation of the Local Government. They don't think that they own their primary responsibility to the people, to the communities they represent. I think that maybe the honorable members here would be able to explain what is it that they are doing towards us and upgrading the primary schools, particularly in our communities. There are no buildings, there are no schools, no benches, there are no blackboards, even registers. So one, where is the money that they allocated to education go? That is the question I have for him.
MODERATOR: The other thing that we have done in this CMG newspaper magazine is to take the relevant portion of the Nigerian Constitution and the responsibility of Local Government and I think it is within the context the Chairman of the RDC has risen this question for the honorable members here to explain further because one of the responsibilities of Local Government is, working with State Government, is the provision and maintenance of primary, vocational, and adult education, development of agriculture . . . these are provisions in the Nigerian Constitution. You also have mentioned, under a monthly basis, the Federal Ministry of Finance publishes allocation to the three tiers of government. Again, the purpose of this is to have a better understanding. So the honorable members can respond to that question. The monies that they get, what happens?

STORY TOLD BY COMMUNITY COUNCILOR (most immediate elected official to community):
On the aspect of visiting my people telling them that this the area that they have been allowed it is something that which that area actually. Because waiting to see that this thing be done we find that most of the Councillors are not performing what they are supposed to. These are the people who are supposed to sleep in the communities, feel the problems of the communities, and come back with the problems of the communities from the local government secretariat. That is the work of a Councillor.
In that aspect, you will notice that they will always find it difficult to pass the night in the community because of the terrain. You must paddle with your boat before you reach the communities. Assuming it is some rural communities where you use auto and can easily get to the community and that the government has never really acknowledged their suffering in traveling and not helping us to have access to our people. Not having access to our people has been a problem to us.
Having access to the House of Assembly too. This matter is very stressful now. If you want to hear anything concerning our people, then let us tell you. So make provision for this aspect of our administration. So we can reach our people whatever time we want to reach them. That provision is always not there.
So I think that the little I have to say is that actually, together, for government presence to be in our grassroots is everybody's responsibility and it is more of the representative. But if the people not unite with that representative or you don't call him up. If you don't call this man and say, "Come oh, Our son, see what we want oh. See what we need oh." If the people make us aware of something we call our leaders when they need stuff.
The only accusation here is that we are not loyal and what is the loyalty that want us to be giving them something. They have been suffering this issue and it is the same thing that the administration that come before was suffering it is what we are suffering today. They say "Ah, he is not loyal." If he can't go give like that man at the top they will just come collect him and call him here now. "You will settle down man now"… that is the sort of thing they do.
So I think together small we can overcome this mediocrity state. So I think, my people, the work of the Councillor, together we can still learn. And everyday we can learn and shape this program because this make . . . even Professors, they learn, you understand. Even your Professors, they learn. This make many of us to know our rights because of this seminar. Look at this budget here, I don't even joke on that. I learn, everybody de learn. And many, when you say you go to the masses and say why you have been here, when you talk to the grassroots, many if you don't learn something here today. So you don't know your rights. What are you supposed to do if you don't know am. Who are you supposed to direct your cry to?

COMMUNITY COUNCILOR QUESTIONING CHEVRON REPRESENTATIVE:
Top of the list is to know from you, among the three Regional Development Councils that you have, is there a particular sharing formula that you use to give to them to develop their community? And if it is, how do you rate the various RDCs in their developmental projects and ventures as an umpire? I believe Chevron is an umpire to this whole thing.
Number two you made mention of the system being checked and balanced so much so that embezzlement is not a part of it, but you know, we Nigerian are very very slicky. No matter how tight you think the system is, there is always some level of antidote. Potentially there are areas where fraud is detected. What provisions have you made when you established your RDCs to check so you can at least forestall future occurrence.

EXCHANGE AMONG ELECTED COUNCILOR, CHEVRON REPRESENTATIVE AND CMG MEMBER:
COUNCILOR: The security against attacks in terms of [RDC] fraud. What are the interventions?
CHEVRON REPRESENTATIVE: So there are laws guiding for us, the laws of the nation and the state. You talked about score cards for the RDCs. Part of the things that we are doing here actually part of the scorecard, your communication with the communities. We don't want a situation in which your government representative or your honorable member don't go to your communities. We want to see that you are in those communities so we will also give them scorecard. Or hold town hall meetings with your people. If you let us see the video of those town hall meetings. Before you tell us this is the project that you want to receive according to the community, where is the letter from the community that selected that community.
At least for the RDCs that I am working with, I am working with Egbeme-Gbaramatu, there is no project connected now without a backing, documented backing. Part of the thing that I am telling them, let the communities consider that this is their project. When we have a project, that project is not a Chevron project. The project was completed in Tisun. It was completed?
CMG MEMBER: No.
CHEVRON REPRESENTATIVE: That is a very rare case. We will investigate that.